SCHOOL TOUR SPECIAL
DISCOVER ST. AUGUSTINE WITH FACTS AND FUN FIELD TRIPS
Ancient City Tours provides professional guides who are licensed with the City of St. Augustine and the National Park Service. They will provide a safe and entertaining learning experience for your students.
Our Discover St. Augustine, Facts and Fun Field Trip is packed with 6 hours of exciting and educational activities that your students will experience in St. Augustine. We can add other elements to this package for additional costs. Contact us today to schedule a Facts and Fun Field Trip for your school group!
FACTS AND FUN TOUR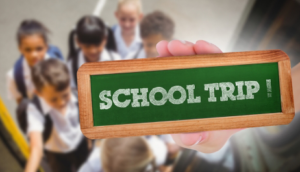 4th Grade – Based on a minimum of 25 paying persons
 Price for 2016-2017 School Year
 Approximate length of tour – 6 hours
YOUR ITINERARY MAY INCLUDE:
Guide Services – ANCIENT CITY TOURS guides are licensed with the City of St. Augustine and the National Park Service. They will make your transition into the past an educational and entertaining experience.
Castillo de San Marcos Fort – The Castillo de San Marcos, served primarily as an outpost of the Spanish Empire, guarding St. Augustine, the first permanent European settlement in the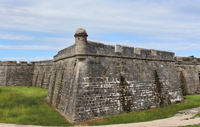 continental United States, and also protecting the sea route for treasure ships returning to Spain. The monument completed in 1695, was never taken in military action.
Oldest Wooden School House in the US. – See the Oldest Wooden Schoolhouse in the US, Come inside and meet the Professor, and see what students had to deal with during school days going back into the 1800's.
Old Town Trolley – All Aboard the Old Town Trolley. Sit back and learn as your driver relates over 400 years of St. Augustine's history.IMG_4619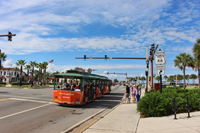 St Augustine Discoverers Scavenger Hunt: During your free time see if you can find the places we have identified in our exclusive photo scavenger hunt. Fun for Adults and Students alike exploring the Nations Oldest City. Of course your professional tour guides will also be available to help if you should need them..
Free Time and Lunch – You will have some free time to explore on your own. St. George Street is closed to vehicular traffic and is lined with 6 blocks of unique shops and places to visit.
Your transportation company will be responsible for any transports throughout the day
Price per person:
Students = $19.00
Adults = $ 32.00
(1 Teacher free with 20 Student Admissions)
Add on any one of the following attractions for only: Students ( $8.00) Adults ($11.00)
Old Florida Museum (1 Program), Fountain of Youth, Old Jail, Pirate and Treasure Museum, Colonial Medicine or Colonial Quarter… Note you can add one of the listed attractions.. Of course custom itineraries and pricing are always available, just give us a call.
Price includes:
 Admissions
 Itinerary Planning
 Scheduling
Group Id Bracelet for Students and Adults
 Professional Guide Service (Guide gratuity at your discretion)
Ancient City Tours can make arrangements for the following services as well:
 Meals
 Themed Historical Walking Tours
 Other St. Augustine Attractions
 Transportation and or Accommodations
 Plan Tours To Other Locations In Florida
Prices Vary for Older Students. All tours subject to availability.
Call 904-827-0807 for info.