About Us
Ancient City Tours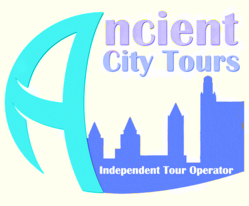 provides custom built itineraries that will meet all of your group's needs. Our services vary from educational tours, adult/senior tours, corporate groups, to clubs and organizations.
We will provide you with a "working" proposal that will list the attractions that you are interested in. Itineraries are designed upon approval of the proposal. Please note that some attractions may be subject to availability. The price is inclusive, so there are no hidden charges. (Guide and driver gratuities are at your own discretion.)
Ancient City Tours works closely with every kind of group; from Seniors to Corporate, from Clubs to Organizations to School Groups.
We offer
Educational Tours
Professional Guide Service
Itinerary Planning and Scheduling
Meals, Transportation, Accommodations, and More
Adult Tours
Step On Tours, Themed Walking Tours, Team Building Activities
Entertainment/Theater
Visitor Information
*Sightseeing Tours Tickets * Attraction Tickets * Ghost Tour Tickets
Free Maps and Brochures.
Step into our Gift Shop,
Complete with drinks, snacks, and unique items you won't find anywhere else. It is also the only place where you can get a copper "Love Tree Heart" and Place it here under the Love Tree.
Professional Guide Service
ACT Guides are all licensed with the City of St. Augustine and the National Park Service.
Itinerary Planning and Scheduling
ACT will custom plan all of your activities for your specific group. One check to ACT will cover all of your expenses.
Transportation, Meals, Accommodations
We will plan these aspects of your trip if needed.
Walking Tours Available and Custom Tailored to your needs
(Please allow 24 hours advance notice )
Plaza de la Constitucion (Historic Central Plaza)
Historic monuments and Cathedral Tour
Flagler Era
The Victorian Era and the beginning of Tourism in Florida
Mission of Nombre de Dios
The landing site of Menendez and the first Christian Service
Presidio
Castillo Perimeter and the Walled City
Fort Mose
The First Freed African Settlement