St. Augustine, Florida
Where the Past is the Present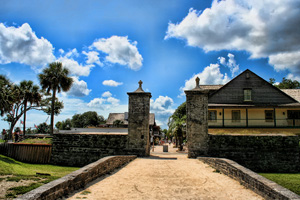 Whether you visit St. Augustine for hours or days Ancient City Tours is the locally owned receptive tour operator that will take care of your needs.
Headquartered in the Love Tree Cottage, Which is conveniently located at 6 Cordova Street, St. Augustine, Florida. Ancient City Tours services tour groups of all types as well as individual visitors to the Nation's Oldest City.
Looking for history, romance, ghosts or just plain fun?
St. Augustine, our Nation's Oldest City, offers adventures for all! The easiest way to fully enjoy all the city has to offer is with one of these designed St. Augustine Vacation Packages offered by Ancient City Tours.
2016 Halloween Contest
Click "What's New" Above for video!!! NEW
Sunday Oct 30th 2016, we will offer our 11th annual free Halloween Costume Contest followed by Trick or Treating in the Historic District! We will have Categories for the contest, and trophies for the winners. Come and join us judging starts at 2pm. Please let us know your coming by logging in to our facebook page event at….https://www.facebook.com/events/573181012873179/

Summertime in the Nations Oldest City

What to do when it is HOT, HOT, HOT!!

St. Augustine is home to so much more than just old buildings and a legacy of history. Try our pristine, and beautiful beaches called by many the best in the world, with hard packed white sand, clear sparkling Atlantic Ocean Waters that beg you to swim, fish, surf, boat, jet ski, walk, sunbath, and the list goes on and on!!
After dark it is "All hands on Deck" for an evening of shopping, touring attractions, or better yet take our award winning Walking Ghost Tour and learn St. Augustine's dark history. After all, you don't get to be 450 years old and not have more than a few skeletons in your closet.
Our Walking Tour, A Ghostly Encounter is guaranteed to delight both young and old alike, with the legends, tall tales and stories passed down from family generation to generation, and brought to life by story tellers who know the stories and live them, not through some written script.
90 minutes of enjoyment for all ages, all the while walking, and living the experiences of the nations oldest city after dark. You can rent EMF and Infrared Touchless Thermometers for your tour in addition to saving a lot of money versus a riding tour. At only $15.00 per person (adults) our Walking Tour is a bargain. Make sure your batteries are charged in your camera or Cellphone, because this tour has captured literally 1000's of images of the paranormal, and we bound to try and get you your greatest shot yet.
Selected as a 2016 "Award of Excellence" by Trip Advisor it is a must do for the visitor to St. Augustine.
EXPLORE HAUNTED ST. AUGUSTINE
(Learn the History of our building and the story of St. Augustines original Love Tree)
.
Join us on our award winning Walking Ghost Tour.
Your licensed, costumed storyteller will amaze and beguile you with stories and ledgends of our city's "DEAD".
Citizens! Enter our building. Investigated by  Peace River Ghost Trackers and many more, to hear of the Paranormal activity occuring there, of the tales of what was here before this home was built and what secrets it is believed to be hiding. Then it is out into the city for more adventure.
You can also buy your tickets at 6 Cordova street, St. Augustine, FL 32084
No group is too big…No tour is too small! Our Group Sales Department will handle all of your groups needs to make their trip to St. Augustine a truly memorable one. Choose from educational field trips, adult tours, entertainment and theater tours, or let us help you build your own custom itinerary. Attraction tickets, books, art work, gift items, and more can be purchased at the Love Tree Cottage.
NEW! Click here to view our St. Augustine Tour Videos!
Our Tours
Due to the approach of Hurricane Matthew to our area Thursday – Saturday we have rescheduled all activities until after Friday. Now is the time to take care of your families and prepare. We will try and update photo's from our remote cameras as we can however they are both power and internet dependent, but we will be watching as we are able to.
We appreciate your thoughts and your business, and we look forward to being with you after Matthew is past our area.
Thanks
Management & Staff
Ancient City Tours