St. Augustine, Florida
Where the Past is the Present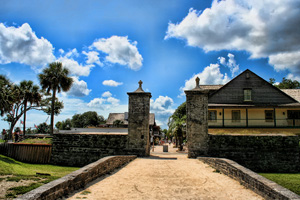 Whether you visit St. Augustine for hours or days Ancient City Tours is the locally owned receptive tour operator that will take care of your needs.
Headquartered in the Love Tree Cottage, Ancient City Tours services tour groups of all types as well as individual visitors to the Nation's Oldest City.
Looking for history, romance, ghosts or just plain fun?
St. Augustine, our Nation's Oldest City, offers adventures for all! The easiest way to fully enjoy all the city has to offer is with one of these designed St. Augustine Vacation Packages offered by Ancient City Tours.
ANCIENT CITY TOURS PRESENTS HALLOWEEN 2014
Tours starting from the Love Tree Cottage on 10/31 and 11/1 and running tours at 8/8:30 9 and 9:30.
90 minute tour with entrance into mourning room at Cottage.
Price is 15.00 a person. 
FOR RESERVATION CALL: (904) 827-0807 6 Cordova Street Next to Tolomato Cemetaryor buy ticket online.
—————————————————————————————————————————————————–
Captain Jack's Ghost Tour
Ancient City Tours presents the most intriguing night time ghost experience ever. Travel on the bloody Matanzas Bay by boat and hear stories from old St Augustine. Join the crew aboard our haunted GHOST BOAT for a 60 min tour along the mystical Mantanzas Bay where the souls of some 300 French Soldiers still lie beneath its surface. Experience sights not seen by any other Ghost Tour company in town and relive the stories that gave these waters its name.
IF YOU DARE..
The tour will start May 1, 2014 and run nightly.

EXPLORE HAUNTED ST. AUGUSTINE
(The  only Walking Ghost Tour to enter a certified haunted building)
.
Join us on our award winning Walking Ghost Tour.
Your licensed, costumed storyteller will amaze and beguile you with stories and ledgends of our city's "DEAD".
Citizens! Enter the Haunted building. Investigated by Taps, Paranormal Seekers and Peace River Ghost Trackers and many more, to hear of the Paranormal activity occuring there, then out into the city for more adventure.

You can also buy your tickets at 6 Cordova street, St. Augustine, FL 32084
No group is too big…No tour is too small! Our Group Sales Department will handle all of your groups needs to make their trip to St. Augustine a truly memorable one. Choose from educational field trips, adult tours, entertainment and theater tours, or let us help you build your own custom itinerary. Attraction tickets, books, art work, gift items, and more can be purchased at the Love Tree Cottage.
NEW! Click here to view our St. Augustine Tour Videos!
Our Tours